What is CLEP®?
If you're looking to save time and tuition while earning college credit, the CLEP® program is right for you.
CLEP® is the most widely accepted credit-by-exam program in the U.S. With a passing score on one CLEP® exam, you could earn at least 3 college credits at more than 2,900 U.S. colleges and universities.
CLEP® benefits everyone – high school students, college students, adult learners, active-duty military members as well as veterans.
You May be Ready to Pass the CLEP® Today!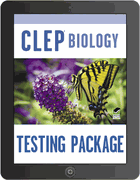 See how much you already know about a subject. Our online CLEP® Testing Packages include a diagnostic test and two full-length practice exams with the most powerful scoring analysis and diagnostic tools available today.
REA's Study System for CLEP®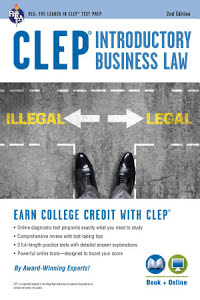 Our study system helps you prepare for your CLEP® exam with a personalized 3-step plan:
1. Focus Your Study
Score reports from our online diagnostic test give you a fast way to pinpoint what you already know and where you need to spend more time studying.
2. Review with the Book
Armed with your score reports, you can personalize your prep by concentrating on the topics that challenge you the most.
3. Measure Your Test-Readiness
The score reports from our online practice exams will let you know if you've mastered the material, or need further review to ensure you're ready for exam day.